Simple, Quick, Hygienic.
The Clean Hands® glove system prevents cross-contamination between food and money.
The patented system features an innovative, reusable, magnetic wristband that connects the slip-on glove to a docking station, to allow for quick and simple glove use and removal.
Designed to sit on a counter top or apron belt or pocket, it is perfect for use in delis, cafes, bakeries, food stalls and trucks, supermarkets and more…
No more disposable glove waste, food damaging tongs or bare-handed grabs.
Clean Hands will save you time, money and will help the environment.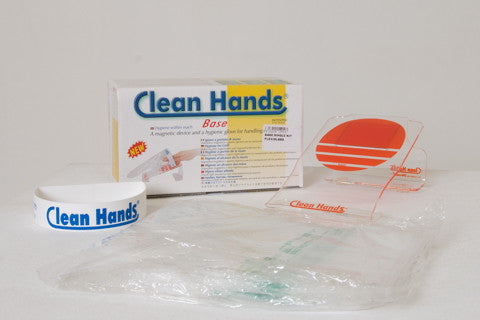 Prevent Cross Contamination

Touching money and food is dirty business. Clean up your act with our new and innovative system.

Re-usable, non-latex, non-powder gloves

Safe on sensitive skin and won't leave a mess on your clothes.

100% recyclable

Use less and recycle more. Significantly reduce your plastic and glove usage - The greener way to go.

HACCP Compliant

A hygienic system designed to enhance food-handling standards.
Friendly and Helpful
We are here to help. With 24/7 email access and phone support (during office hours) we can ensure you choose the right product for your business.
Quick Turnaround Times
We will always endeavour to ship products on the day of order to ensure your products arrive quickly
Small, Medium or Large
We have solutions and packages to suit all sized businesses. No order is too big or too small.